Today I am interviewing Shanita Vichare from India. She writes under the penname Aneeta Chitale.
Aneeta Chitale is the author of the popular book, Sojourn to Maldives.
Shanita is an Administrator in the Literary Forum How to Write for Success and a member of Motivational Strips, the world's most active writers' forum.
Q1. Tell us a little about yourself.
As a child I always had the privilege of traveling all over India.
My journeys and travels have made some lasting impressions on my mind.
When I was four years old, I had seen the 'Wild Life Sanctuary' at Kaziranga in Assam.
Since I was a toddler I loved to travel.
I lived not only a 'Bohemianism' lifestyle but also in the rural and remote dwellings.
Besides being an educator, writing is my passion and I am a poet at heart.
I have started two schools and the third one will soon be set up.
I have worked as a co-ordinator and Principal at ADIS Campus, and also as an ESL Teacher & International Baccalaureate facilitator for sophomores in India and abroad.
Q2. How many books did you write?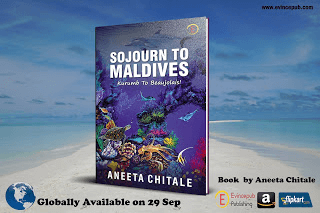 I have showcased my debut novel "Sojourn To Maldives" a book set on the backdrop of mesmerizing turquoise green waters, white sandy beaches with breathtaking sunsets and water villas.
The protagonist is an expatriate teacher.
It is a story woven on the archipelagos of the Republic of Maldives.
This novel is for travel lovers and students seeking to join 'Foreign Services,' 'Adventure Sports Lovers, and mostly for marginalized communities to voice their concerns.
I have a Poetry Anthology soon coming up, but I wait for the best publishing houses to select my work.
There are also a few short- stories that I will showcase very soon.
Q3. How did you get started on your writing journey?
As I mentioned before, I have always been a poet, but writing fiction was more of a chance happening.
A high delegate from the Maldives had suddenly called me up and asked me to do a translation of short stories from Marathi to English.
It was a Herculean task for me.
I did not have much free time to write as I had been busy teaching my students in grades 11 & 12.
To get such a call from an Ambassador of Maldives was an honour and privilege, and I made time to do the needful.
To my surprise, he said that I did it pretty well, and I could sense I was going to pen some more stories.
When and where? I wasn't really able to pinpoint it at that time.
Then one fine day, I started a new project.
I got what I had been waiting for- "me time" to write my first draft of a novel.
I developed my stories in my mind and the characters started talking to me!
In four months I finished writing it, but the harder things were yet to unfold.
My editor was an elite lady, who was socially upward-moving and she gave me a hard time.
At that time I hardly had any good contacts in the publishing industry, but I never gave up.
Then I had a difficult time with my publisher, but that too didn't stop me.
I myself edited the whole novel.
So eventually, I had put on many hats!
I went on to make an ebook too.
Q4. Are there any poets or writers who influenced you?
Yes, I always read great books in literature, among which were Nobel Prize Winner - Hermann Hesse's 'Siddhartha'. Robin Sharma, Margaret Mitchell's 'Gone with the wind', Charles Dickens, William Shakespeare's plays and sonnets. Pablo Neruda's poems, and Indian authors like Kushwant Singh, Girish Karnad. and Arun Kholatkar.
Q5.Are you a member of any Literature Forums and how have they influenced you?
Yes, I am a member of many Literary Forums.
I am a member of the 'Association of British Scholars' where I have met many famous contemporary writers.
My first literary Forum's Founder is a renowned poet himself and a lover of English poems.
Quite accidentally, I came across Mr. Shiju H. Pallithazheth, Founder of Motivational Strips, the world's most active writers' Forum and joined the dynamic group. I was impressed by his motivational talks and articles.
Later on, I met Brenda Mohammed, Regional Director- Operations, Motivational Strips and Founder of the Forum How to Write for Success, and she asked me to become an Administrator in How to Write for Success Literary Forum.
I accepted, and am delighted to be a member of the team.
I became a member of the 'World Nations Writers' Union' of Kazakhstan, and happy to state I am one of the recipients of the 'World Poetic Star Award bestowed in honour of the 175th Anniversary of the great poet " Abai Qunanbaiuly."
I am also a member of International E-Magazine " Atunis Galaktika".
it's Editor, Agron Shele curates the best of the poems around the globe.
My 3 Poems have featured in 'Atunis Anthology of Poems in the year 2020'
I feel very happy to have achieved this honour.
In March 2020, my poem against Domestic Violence was published in the Anthology "Break the Silence."
The Anthology topped the charts on Amazon in seven days and became Amazon Bestseller No 1 in the category Poetries and anthologies on the occasion of International Women's Day on 8th March.
This ground-breaking book was spear-headed by Brenda Mohammed, Founder of How to Write for Success and the Administration team, of which I am a member and 87 co-authors.
Brenda Mohammed, from Trinidad & Tobago, is also an award-winning and bestselling author of 24 books.
Q6. Do you have plans to write a novel or a new book?
I have planned a draft of my short stories recently.
My Poetry Anthology- is almost ready and I'm looking out for some good publishers.
I am a full time working professional and I have to really treasure all my holidays and utilize my weekdays too, for optimum potential.
Q7. What is it about?
This collection of stories would be from our culture, social acceptance, based on women.
Q8. Where did inspiration for this come from?
I came across two friends.
One is a lady, and another is a close friend from my schooldays who said, " Aneeta you have a plethora of stories to tell and share, you must put it down on paper."
Actually, I've been writing since the age of twenty on pragmatic issues but didn't present it to the publishers.
Maybe I am a bit too preoccupied with my scholastic duties.
But I have widely travelled, observed a lot, and have found my niche.
I have always been a self – motivated person.
I love dancing and drama too.
Q9.Who do you think would like your story and what kind of readership are you aiming for?
My stories will be primarily read by womenfolk, who lead a professional life as well as a personal life.
She has to make many sacrifices, and always walk a tight rope, live on a stringent budget, and have a great moral responsibility.
It will have a wider readership, as I don't claim it as a 'feminist' book.
I have friends who are single –parents, and male colleagues who perform all the roles as a parent.
Q10. What is the message you will be trying to get across in your book?
Since I'm still working on it, I guess the message will not be clear yet.
Each reader may have a different perspective.
I am leaving it open for readers to form their own opinions.
Q11. What is your writing process like?
When I was twenty years old, I knew I would be writing a book but on what ? when ?.... wasn't really clear to me.
However, somewhere deep down I had thoughts about writing about women.
At that time 'feminism' was a hot topic.
I had wanted to- experience life, as I 'am lucky I must say.
I still have to wait and watch!
I have to do late nights to have a great social circle but then I just don't socialize much beacuse I have to meet my set targets.
My friends often are upset with me but are trying to accept it.
Q12. Is there something about the writing process you wish someone had told you before? Good or bad?
I just am too eager to type the whole story, some times in detail and some times not.
I prefer MS Word only, and after completing the whole story, I go for Chapter wise editing.
It's a time consuming process, but a must-do. I do more than 3 edits.
I wish someone had told me about the editing of the book, but unfortunately, it wasn't so.
It was a bad experience and I feel we could make it a better process.
Q13. Do you have any advice for writers?
If you want to pursue writing first write for yourself, try to find out- which genre you like.
Plan to polish your work, and read it out to your friends.
Make a note of their advice- good/bad, but you too should be very sure of what you are writing.
Maybe you are writing about Alaska and no one from your friend circle knows about it.
It is better to master your plot/ theme/ destination from where your characters come from.
Make like-minded friends, because your old friends are not going to be on the same page!
There are no shortcuts to success.
We authors have a wider choice these days.
We can Self Publish or opt for Traditional Publishing Houses.
Brenda Mohammed wrote an award-winning book, How to Write for Success and you can buy it at this link. CLICK HERE.
BIOGRAPHY
Aneeta Chitale is a Post Graduate, in English Literature from Pune University and has made her career in Education.
She loves working with children.
Her debut novel is "Sojourn to Maldives." and she has made her foray in the writing world, by penning her novel on international relations and adventure. She attained a B.A in Psychology and pursues her interest in working as a counselor with her group.
n her free time, she does organic farming, listens to music, and travels.
Aneeta is an avid reader and ardent poet at heart.
She started writing poems since she was eleven years old.
Many of her poems are published in International Journals.
Nature has always fascinated her.
She uses an eclectic style in her penmanship.
Her poems have appeared in European Poetry anthology Year 2020, also kept in Denmark.
Her poems have featured in many International Poetry Anthologies, her poem 'Love' from Sojourn to Maldives, her debut novel. has been featured in Silvery Books, Greece.