I had the pleasure to interview another of the brilliant Administrators of How to Write for Success Literary Forum, Debabrata Mohanty.
Tell us a little about yourself
I was born in India in a family of four brothers and two sisters.
Born in a cultured family, my father influenced me with his extraordinary English and my mother with her love for regional literature. I'm blessed to have a very caring and understanding wife who is a teacher in a Govt. School at Bhubaneswar, the capital of Odisha. I'm also proud to have two daughters. One is a design engineer with Mercedes Benz and another with Indians. Above all, I belong to a happy family with a strong bond of love. It gives me happiness that all my brothers and sisters are very well placed and I always hold special regards for my eldest sister who was in the state administrative service. Her sacrifice for the family is an exemplary one.
How did you get started on your writing journey?
I have been very imaginative from childhood and my family members, my teachers, and friends always inspired me to write something on anything. It's only during my graduation at BJB College, I wrote a story for the hostel magazine and it was highly appreciated by the Principal and poet, Maj Guru Prasad Mohanty. Since then, I have been writing casually!
Are there any poets or writers who influenced you?
The poets like Rabindranath Tagore, Kazi Najrul Islam, Prof. Jayanta Mahapatra, TS Eliot, WB Yeats, Robert Frost, John Keats, William Wordsworth, Walt Whitman, Wilfred Owen have had lots of influences on me!
I was most influenced by Albert Camus'The Outsider and the plays of American playwright, Edward Albee, like The Zoo Story.
Are you a member of any Literature Forums and how have they influenced you?
I'm much grateful to the giant poetry forum Motivational strips and its affiliates branches such as How to the Write for Success Literary Forum, Poetry for prevention of Suicide, and Poetry against Domestic Violence. I run short of words to express my deep gratitude to the blessed poets and authors like esteemed Shiju Pallithazheth and Brenda Mohammed who manage and motivate the budding poets!
I 'm also in praise of esteemed poets like Mala Naidoo, Anne Thrope, and Sarah Northwood who always boosted my writing skills. There are also other forums where I got lots of recognition and appreciation. I'm also much indebted to poet Myriam Ghezail Ben Brahim of the world of Poesy and Loi Monroe of Real vision of Aspirant writers. There are so many poets who I owe much.
How many books have you written? Tell us about them.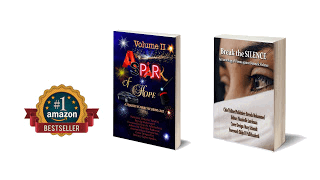 I'm yet to publish my own books, though I have coauthored in the publication of two Amazon's bestselling books published and edited by the great author, Brenda Mohammed.
They are A Spark of Hope: A Treasury of Poems for Saving Lives from Suicide, and Break the Silence: An Anthology Against Domestic Violence.
Where did inspiration for these come from?
I'm fortunate to have been much inspired by my noble friend and an author of great repute, Brenda Mohammed! I'm equally motivated by esteemed writer and the mainstay of Motivational Strips, Shiju Pallithazheth and so many excellent poets of the said Forum.
What is your writing process like?
I actually write for all sorts of readers, a language for the common man and metaphorical for intellectual readers.
My purpose is to please the readers with my messages.
What kind of readership do you have for your writing?
I welcome all sorts of readers who really enjoy poetry.
I write for all in the forums of which I am a member.
The members of Motivational Strips and affiliates come from 106 countries in the world.
How do you go about editing your work?
First I think of what I'm going to write about.
Then I make a rough draft and see whether the words are in accordance with my feelings.
Then make a second draft and the final one,
Do you have any advice for writers?
My advice to all the writers that whatever they write must be true to their experiences! Mere words don't make a work of art. And, all writers should read a lot.
What are your social accounts if people want to connect with you?
Anyone who likes to connect with me can write at my email debabratamohanty26@gmail.com
Do you have any final thoughts?
What I have felt is, that a writer needs a lot of inspiration, and I'm awfully inspired by the poet, Brenda Mohammed.
I remain ever grateful to her and seek her guidance in my journey as a poet!
With regards and thanks
Debabrata Mohanty
BIOGRAPHY OF DEBABRATA MOHANTY
Debabrata Mohanty has done his post-graduation in English literature with specialization in American literature at the prestigious Ravenshaw University in Cuttack, Odisha, India.
He then obtained his M. Phil degree in American literature from the Utkal University and wrote his thesis on the major plays of Edward Albee.
He was the former head and vice-principal of a premier college of the state, P N Autonomous college, Khorda.
He also acted as controller of examinations of the college.
Debabrata Mohanty was the president of the staff club and achieved recognition for his influencing speeches.
Prof Mohanty is an excellent communicator and has trained many MBAs in the field of effective communication.
He has a great passion for writing poems.
Keats Eliot, Pablo Naruda, Maj Guru Prasad Mohanty, and Prof Jayant Mahapatra have highly inspired him with their splendid and life-giving poetry.
Now he lives in Bhubaneswar 'the city of temples."
Debabrata Mohanty is an Administrator in the Literary Forum How to Write For Success and a silver categorised member of Motivational Strips.
He has co-authored two best-selling books published and edited by Founder of How to Write For Success Literary Forum, and Regional Director, Operations, Motivational Strips - Author, Brenda Mohammed.
They are A Spark of Hope: A Treasury of Poems for Saving Lives from Suicide, and Break the Silence: An Anthology Against Domestic Violence.