On 19th June 2020 the Motivational Strips family celebrated two years of success.
The Founder Shiju H Pallithazheth commended members for the progress made in just two short years.
* Five governments backing us
* Writers from 159 countries
* 6.1 million monthly visitors
* 109 K feedbacks a month
* 15 K plus posts a month
* 10 affiliated forums of high quality
* 2 largest unions as associates
* Nobel laureate and nominees as members and advisors
* UN Literary chair holders
* Plenty of wiki listed authors
* Literary institution heads
* Best selling authors
* 3 journals
* Bi Annual literary magazine
* 4 web based publication magazines
* All our Anthologies are Amazon Best sellers Rank 1
* Our own book publishers
* Presence of authentic and quality writers (we say no to lip writers and say yes to the ones who use a pen).* Our authors have featured in many newspaper, TV Channels which includes even BBC news
* Oxford trained poetic mentors
* All our services are free and we do not charge a penny for anything we do
* Our awarding structure is impartial to any external influences
* Politics is a big no here, we show them the exit key when they want to attempt it here.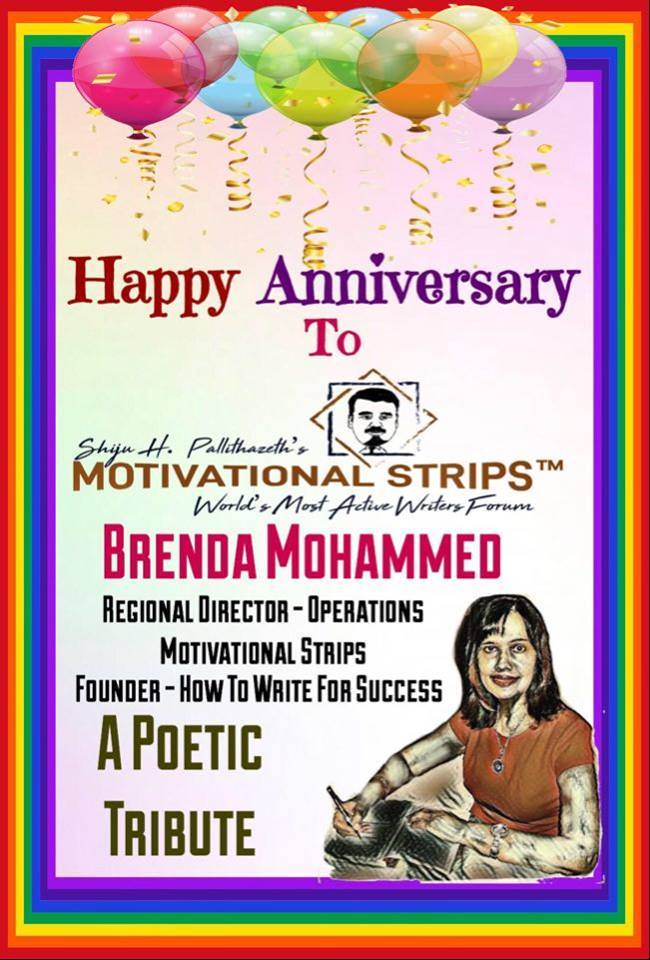 Regional Director, Operations, Motivational Strips - Brenda Mohammed shared this poem to members:
HAPPY ANNIVERSARY TO MOTIVATIONAL STRIPS
19th June 2018 was a very special day in our lives.
It was the day the Forum was founded by a man so wise.
It's the world's most active writers' forum members love.
And where abound many opportunities you can think of.
Backed by five National Government associations,
Seven top rated affiliates and two of the biggest Writers' unions,
Three Literary Web Magazines, two journals, and a website.
Members can share their writings in any language they like.
The Forum has over 6,100,000 visitors every month,
Writers from 159 countries from east, west, north, and south.
It's a Paradise for readers, and a research centre.
To share our thoughts as well as to unify Literature.
No public Literary criticism is allowed in Motivational Strips.
Members enjoy a well-refined ambiance with strict rules of ethics.
Literary integrity and awareness of Cyber deceit are important to us.
Interaction with fellow writers are encouraged to build up trust.
Our esteemed Founder honours members periodically,
With certificates of appreciation handled methodically.
Shiju H Pallithazheth is a brilliant thinker, visionary, and motivator.
Motivational Strips has a unique and dynamic corporate structure.
Kudos to Members, Chief Advisors, Regional Directors,
Forum Director, Administrators, and Moderators.
Let's celebrate today by writing our best poetry.
Happy Second Anniversary to each one from every country.
Brenda Mohammed
Regional Director – Operations, Motivational Strips, the world's most active writers' Forum.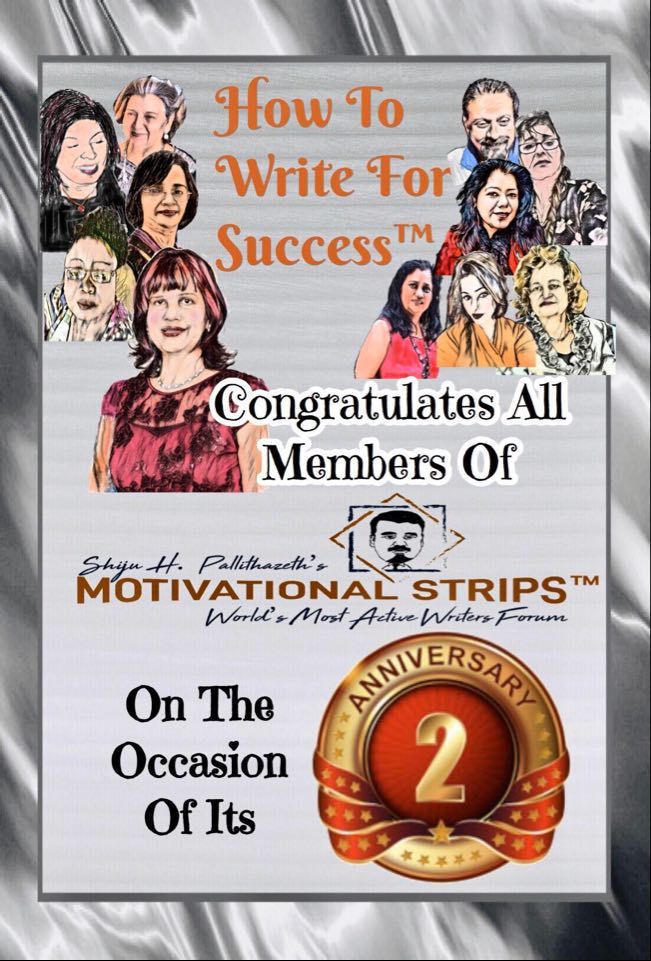 How to Write for Success Literary Forum shared this poem.
HAPPY SECOND ANNIVERSARY TO OUR PARENT FOUNDER
We are proud to be part of this literature family.
We truly believe in global harmony
We spread literary talent throughout the world.
That's 'How to write for Success' major goal.
Today we wish the Head of the Family
A very happy second anniversary.
We have grown together by leaps and bounds.
What this family has achieved indeed astounds.
Kudos to Shiju H Pallithazheth our dynamic Founder.
His heart and soul is intertwined in Literature.
In only two years he built a giant Paradise for writers.
The world's most active writers' forum with over 50000 members.
His brain keeps working to upgrade the forum further.
We can expect more major developments in future.
We extend greetings to the 159 countries in the entire family.
Best wishes for a fruitful and Happy Second Anniversary.
Copyright@BrendaMohammed
Other forums and members took the opportunity to share greetings to our wonderful parent Forum.
It was a joyous day of happiness and celebrations.