It was my pleasure to interview Florabelle Lutchman and to learn of her many achievements in life.
Tell us a little bit about yourself.
I am a retired Principal of the Vistabella Presbyterian Primary School in Trinidad where I was born and raised by parents who believed in education for their children.
I am the seventh child in a family of ten children.
After completing Primary and Secondary School with distinction, I entered the teaching profession.
I met my husband at this school and we were married for almost fifty years.
My beloved husband died in 2016 and I became a widow.
We have one very loving, helpful, caring daughter, the second daughter having died at only four hours old, leaving me with a scar in my heart for life.
After I graduated from Naparima Teachers' College in San Fernando as a qualified teacher I returned to Vistabella Presbyterian School to teach.
I taught mainly Examination classes for Secondary Assessment of Students, and I simply loved doing so.
The students were always highly successful and many passed for their first choices.
As the years progressed I became Vice-Principal and eventually Principal of the school.
In 1999, I was awarded the prestigious prize of Principal of the Year from the Presbyterian Primary Schools' Board of Education.
From among 72 Presbyterian Primary Schools' Principals, I was selected.
This was based on my dedication and commitment to education at this school which grew from success to success under my leadership.
In 2002, I also received an award from the San Fernando City Council for my outstanding contribution to education.
I was the only Primary School Principal to receive this award.
The other three Principals were from Secondary Schools.
After my retirement as Principal of this now prestigious Presbyterian Primary School from which every parent, teacher, and child was sorry to see me leave, a grand Valedictory Function was prepared for me by the teachers.
I continued teaching examination classes at Private Primary Schools.
At these schools, I continued to write speeches and chair functions.
I have completed a course in Religious Studies at St. Andrew's Theological College in San Fernando.
I preach at my church when scheduled by the resident Minister as I gained the knowledge from this College, and ave received awards from my church for my sterling contribution as an Elder and Local Board Secretary.
I am interested in people as a whole and involve myself in many community events that take place in my area.
I love animals and have three dogs at present.
I mentor a dog and a cat at a no-kill animal sanctuary.
Family togetherness is very important to me and I love my family.
I possess a great sense of humour.
Whenever I chair a function I must include some humour which is enjoyed by all.
I have travelled widely internationally expanding my horizons.
I am a member of Motivational Strips, the Founder of which is Mr. Shiju Pallithazheth, and an administrator of the Facebook Group "How to Write for Success" of which the Founder is Mrs. Brenda Mohammed.

I was an Editor in the Book 'Break the Silence'-a book of poems relating to Domestic Violence.
My poems are also featured in Book one and two of 'A Spark of Hope' - Anthologies of poems dealing with the Prevention of Suicide, and in Break the Silence.
How many books did you write? Tell us about them.
I have written one starter Book, "Memories of a Teenager" which can be found on Amazon.
It is a small edition that I hope to expand on.
This book deals with the love and caring of family and finding innovative ways for leisurely enjoyment.
At a public function, I was recognised with other first-time writers by the National Library of Trinidad and Tobago as a first-time author for this book and received a beautiful plaque.
I was also a joint author of the Book, "Values for Life" produced by the St. Andrews' Theological College, and which is used to teach values education in primary schools.
How did you get started on your writing journey?
My writing journey is long and varied. I was interested in writing since I was a child in Primary School.
I remember placing third in an Essay writing Competition.
My prize was a silver Parker Pen. Everything was broadcasted over the radio in those days.
There was no television yet.
It still pains me to remember the answer I gave to the Moderator over the radio for all to hear when he said, "Will you write your boyfriend with this pen?'
I answered to my utter disgrace to this day, "I hope so," in a funny, trembling, high pitched voice!!!
I was eleven years old.
I continued my love for writing and my essays were so good that my best friend in Primary School stole my book one day and learned off one essay by heart and reproduced it in an examination.
I also wrote an article entitled "Life in Dormitory" for my High School Magazine.
When I was eighteen years old I submitted an article to a Trinidad Magazine for a competition but it did not place.
I never gave up and continued writing poems and articles.
I was also instrumental in writing the Valedictory Speeches for many a graduating class of mine in all the schools in which I taught.
When I was Principal I also wrote and read the Principal's Annual Report every year at the School's Graduation and did articles for the Parent-Teacher Association to be included in their magazine.
I was also instrumental in formulating the Vision and Mission Statements of the School, the Motto, the Logo, and the School Hymn.
I prepared many worship sessions also, the most outstanding in my mind is the Order of Worship for the Opening of the Florabelle Lutchman Learning Centre. For a number of years
I have been writing articles for the Trinidad Presbyterian, the official organ of the Presbyterian Church in Trinidad and Tobago. Every time my church or one in the Pastoral Region had an important event I would write the article as I had been appointed one of the writers when the present Moderator was working in my Pastoral Region. I continue to write articles to this day.
I have also written and read in Church at the funeral service, approximately sixteen Eulogies for my deceased loved ones and friends.
I write sermons and prepare a full Order of Worship when I am scheduled to preach.
In a class or group of adults, I have always been selected to do the major writing even when I did not volunteer.
I have also been writing many poems since I was very young.
I write to express my feelings of pain, joy or sorrow. A few years ago, actually, in 1989, one of my poems, entitled "What is Love" was included in an American Poetry Anthology, Volume 1X, Number 2, published by Robert Nelson.
My picture and brief Biography were also included.
Another Poem "An Ode to Our Father" was included in the book, Memoirs of Dr. A. M. Khan written by Mrs. Brenda Mohammed.
I continue to write poems on various topics in the forum How to write for Success.
In December 2018, I received a Diploma from World Nations Writers Union for the International Poetry Writing Contest.
I have also received an International Diploma I in 2019 in a competition I entered in honour of the 28th Independence Anniversary of Kazakhstan and the 150th Anniversary of Mahatma Gandhi.
Very recently I received another award from Shiju H. Pallithazheth, a Premium Membership Certificate- a Gold Category Honour, and I thank him sincerely.
I was recommended by the eminent writer, Dr. Vishnu Pandya and I extend my gratitude to him.
As Secretary of the Local Board of my church, I also do several writing assignments- Weekly Announcements, Letters, Local Board Monthly Minutes, Annual Congregational Meeting Minutes, Annual Local Board Report, Writing Notes to teach a Communicant Class, History of the Church and other important documents when needed.
During this period of lockdown, I have written several Easter sermons for the Presbyterian Church website.
I plan to continue this during the lockdown when it is not possible to gather in a physical church.
Are there any poets or writers who influenced you?
My late father, Dr. A.M. Khan was very instrumental in influencing me to write from a tender age. His pleasure at what I wrote was my driving force.
I have also been influenced by some of the great writers like William Shakespeare, Agatha Christi, Jane Austen, Enid Blyton, Mark Twain, Charlotte Bronte and many others whose Literature books I had to study at school. My late husband's joy at reading what I wrote also encouraged me to continue. He never found a fault with anything I did or wrote.
Today one of the driving forces behind my writing is the Founder of the Forum How to Write for Success, Mrs. Brenda Mohammed.
She always encourages me and "drives me" so to speak. I do appreciate this as it has caused me not to procrastinate, something I could easily do.
Do you have plans to write a new novel or book?
Yes, I do have plans to write another book.
What is it about?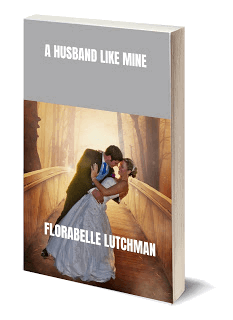 1). I am presently writing my second book, "A Husband like Mine."
It will be due for printing after this lockdown.
I do not intend to put it on Amazon, though. It contains more or less private information which I will share with close relatives and friends.
It is a book about the great love a husband had for his wife and all the many things he did for her, how his only aim in life was his family and their happiness, and how he fully supported me in everything I did.
The book cover was done by Brenda Mohammed.
2). I have always wished to write an English Grammar Book especially for 11 plus kids, but there are so many on the market I have changed my mind. What I do and plan to do more of is to prepare Examination Papers in Language Arts- (Grammar, Spelling, Punctuation, and Comprehension) according to the guidelines set by the Ministry of Education for the Secondary Entrance Assessment Examination. I have already prepared some questions.
I also intend to prepare Mathematics papers, according to the guidelines set.
I have already compiled some questions.
Creative Writing-Narrative /Descriptive and Report writing topics will also be prepared.
I have done some already.
Guidelines for writing these topics will also be given.
3). Another plan is to write an Anthology of Poems.
I have several poems set aside for this.
Where did inspiration for this come from?
This inspiration for the SEA came from the students to whom I give extra lessons for SEA.
They keep asking me as some are not too satisfied with their regular schooling.
I have taught many Examination classes and I have a pile of information to be documented.
I also love to teach and encourage children to aim for excellence in all things.
Ask me to cook and clean and I get tired immediately.
Put me in front of a class of students for the entire day and I never feel tired.
For the Anthology, the inspiration was always there but like a sleeping volcano.
Now it has become active due to my membership in How to Write for Success and its Founder, the great motivator, Mrs. Brenda Mohammed.
I have already put together some of the poems I wrote years ago and whenever the feeling hits me I write one.
For my Book, "A Husband like Mine" the inspiration came naturally from my husband.
He was a unique man whom I loved tremendously.
Who do you think would like your new story and what kind of readership are you aiming for?
The readership for the Poetry Book will be 11 plus students and all who are interested in Poetry.
In my book, "A husband like Mine" I expect my readership will be both husbands and wives who wish to live a fairly blissful married life-definitely not without ups and downs but one that shows how communication and deep love can solve a myriad of problems so easily.
What is the message you will be trying to get across in your new Book?
My new book, "A Husband like Mine' deals with the great love displayed by a husband for his wife and who would do so much just to please his precious possession-his wife.
I normally write and read eulogies for my deceased loved ones but at my husband's passing I was so distraught I could not write anything.
This biography is a tribute to him.
It can also show others how a husband should treat his wife with love, caring, compassion and protection.
He was my shield and defender.
I wish other husbands to also act in a similar fashion and Domestic Violence will surely become a thing of the past.
What is your writing process like?
I write when I have the inclination.
This is the time when the thoughts flow. When that inclination is not there not a proper sentence comes to mind.
The best time for writing for me is late at night when I am all locked up safely in my house.
I sometimes get ideas when I go to bed and cannot sleep so I rise and write what comes to mind and then go back to bed and sleep like a baby.
How do you go about editing your work?
I often read my writing over and over and correct any punctuation, grammatical or spelling/typographical errors that may occur.
This may be done after a period of two to three days.
Is there something about the writing process you wish someone had told you before? Good or bad?
Throughout the years being a teacher of the English Language I have learned to be able to write fairly well.
The Ministry of Education gives excellent ideas to teach children the proper procedures to follow and that helps me too.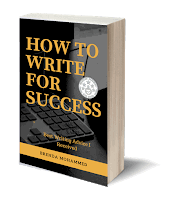 However, the Book, How to write for Success written by Mrs. Brenda Mohammed has often reminded me of certain guidelines I may have forgotten throughout the years.
This is an exceptionally good book which all budding writers should use.
Do you have any advice for writers?
My advice to all writers is to keep writing, as the more you write the more interesting and exciting your writing will be.
Your use of Vocabulary and Grammar will also show progress.
The more you write the better writer you will become.
Thoughts will flow more easily.
Another important point to improve your writing is to read.
Never go to bed without reading something- be it a newspaper article or a chapter or two of a book and you will be surprised at the improvement in your writing.
What are your social accounts if people want to connect with you?
My email address is florabellel@hotmail.com
Brief Biography of Mrs. Florabelle Lutchman
Florabelle Lutchman, a prolific writer of articles and poems., is a retired School Principal, and retired teacher of two prestigious Private Primary Schools. She now owns her own private school to train students for the Secondary School Examinations.
Florabelle is Secretary of the Local Board in her Presbyterian Church.
She is an Administrator of How to Write for Success. Literary Forum and a Gold-categorised premium member of Motivational Strips, the world's most active writers' Forum.
She was a Co-author in three bestselling Anthologies spear-headed by the Founder of How to Write for Success and Regional Director, Operations of Motivational Strips. They are "A Spark of Hope"- Books 1 and 2: A Treasury of Poems for Saving Lives from Suicide, and the ground-breaking "Break the Silence: An Anthology Against Domestic Violence."