An article about Author Brenda Mohammed appeared on the Sunday Trinidad Guardian, the leading newspaper in Trinidad and Tobago, on Sunday September 20th.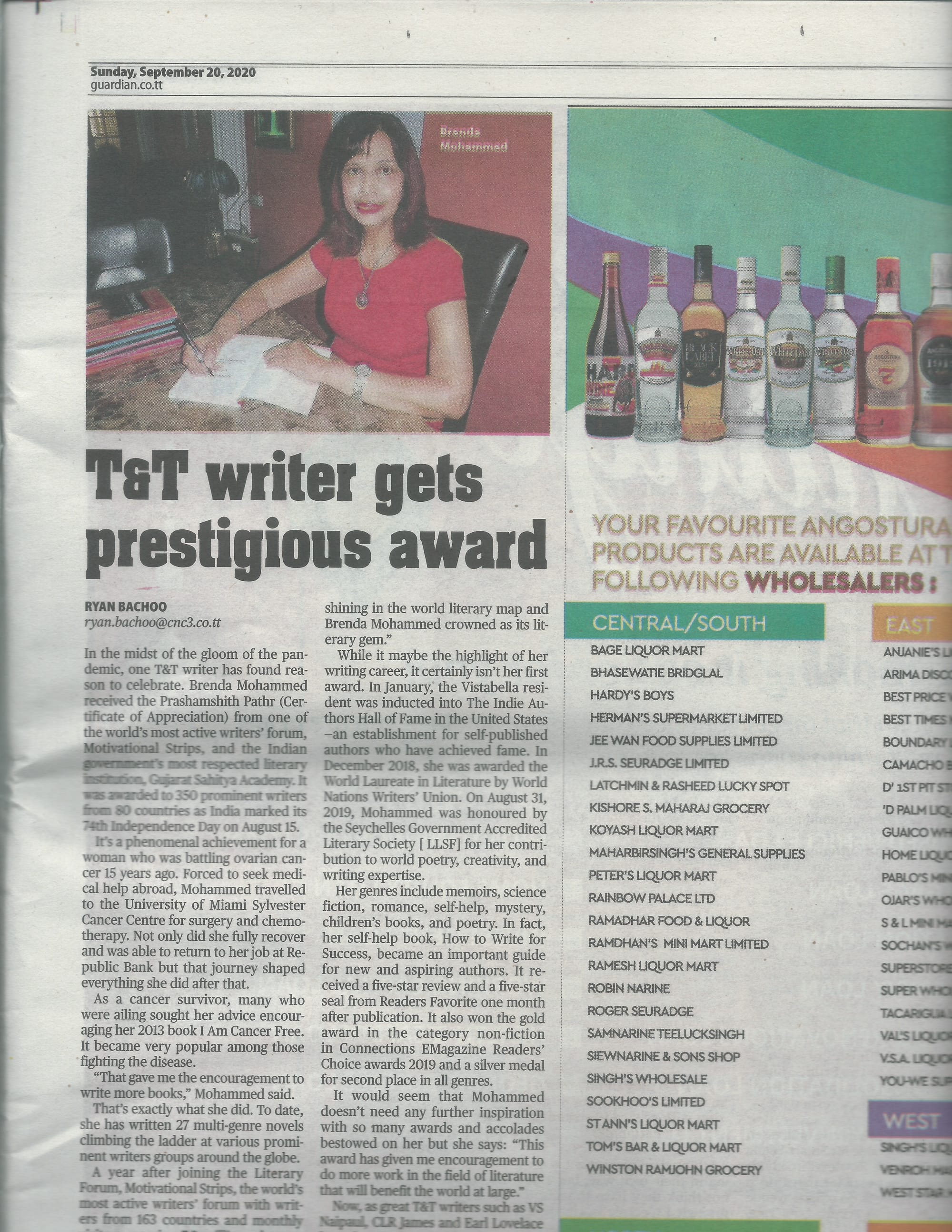 Here is the link to the article. CLICK HERE
The article also appeared on World news.net CLICK HERE TO SEE IT.
I am sharing the full interview between Ryan Bachoo of the Trinidad Guardian and Author Brenda Mohammed below.
Tell me about yourself and your writing life.
Ryan, I am a former Bank Manager of Republic Bank Limited. After I left the bank I did a stint in Insurance and qualified for the Million Dollar Round Table six times in a row.
In 2005, I was struck with ovarian cancer and my doctor in Trinidad gave up on me. She said I should go abroad for treatment. I went to the University of Miami Sylvester Cancer Centre and underwent surgery and chemotherapy. I recovered fully and returned to work. I encountered many who had cancer and they sought my advice.
In 2013 I wrote the book I AM CANCER FREE and it became a best seller. That gave me the encouragement to write more books. To date I have written 27 books in multi-genre.
I joined the Facebook Literary Forum, Motivational Strips, which is backed by two famous writers' unions – World Nations Writers' Union of Kazakhstan, and Union Hispaniomundial de Escritores of Peru.
After one year, I was appointed as Regional Director, Operations, Motivational Strips, the world's most active writers' forum, by the Founder Shiju H Pallithazheth.
In October 2018, I was appointed as an Honorary Member of the World Higher Literary Academic Council of World Nations Writers' Union of Kazakhstan, by President Kairat Duissenov Parman.
In June 2019, I was appointed as National President of the Union of Writers, Union Hispaniomundial de Escritores for Trinidad and Tobago by Carlos Hugo Garrido Chalen, the President and Founder.
Tell me about the award you received in India. Include when you won the award.
The Prashamshith Pathr (Certificate of Appreciation) was conferred on me, by the world's most active writers' forum 'Motivational Strips' combined with India Government's most respected literary institution, Gujarat Sahitya Academy. This literary honour is highly respected worldwide, due to the fact it was awarded to 350 prominent writers from 80 countries. It was given in honour of India's 74th Independence Day on 15th August 2020.
Motivational Strips is the world's most active writers' forum and has writers from 163 countries with monthly visitors crossing 7.3 million.
The award made headline news in many worldwide media because historically it was the first time two literary gigantic institutions combined to honour world poets and writers. The leading newspaper of India, 'Times of India,' referred to this honour as the top one a writer could ever achieve in his or her lifetime.
Three other Trinidadian poets won this award. They are Florabelle Lutchman, Narendra Rajkumar, and Arjune Teeluck.
3) How does it feel to have won this award?
I was delightfully surprised when I saw my name in the list of awardees. This is not just a premium award for me, but more than that, I value it as the success of Trinidadian writers. The Founder of Motivational Strips, Shiju H Pallithazheth, had rightly stated that "it's a happy moment to see Trinidad shining in the world literary map and Brenda Mohammed crowned as its literary gem.'
The feeling of satisfaction and achievement is the greatest award for any writers, and it was a happy feeling.
You have written close to 30 books; can you tell me what topics you write on?
I have written books in every genre – Memoirs, Science Fiction, Romance, Self-help, Mystery novels, Children books, and Poetry.
I must mention that my self-help book,' How to Write for Success' is a popular guide for new and aspiring authors.
The book received a five-star review and five-star seal from Readers Favorite one month after publication. It also won the gold award in the category Non-Fiction in Connections EMagazine Readers' Choice awards 2019, silver medal for second place in all genres, and is an Amazon best seller.
The book is my inspiration for founding the Facebook Forum, 'How to write for Success,' with 6300 plus members. It is very popular amongst university students and new and aspiring authors who have written fantastic reviews about it.
The Forum produced three Anthologies under my guidance.
A Spark of Hope: – a Treasury of Poems for Saving Lives Book I - The poems within this anthology by forty-nine authors are therapeutic, and some have already saved lives. It is an Amazon bestseller.
A Spark of Hope: A Treasury of Poems for Saving Lives Book 2 – 64 prolific authors participated in this Anthology, published 11 February 2020. It is an Amazon bestseller.
Break the Silence: An Anthology against Domestic Violence – 87 authors coauthored this book with poems written by poets who have at some time or the other suffered or witnessed physical, emotional, financial, or other types of abuses in the home, or at the hands of other perpetrators. It was published March 5th 2020, and is another Amazon bestseller.
Please state the seven awards you won.


READERS FAVORITE INTERNATIONAL – USA
In November 2018, I received two awards from Readers Favorite International at an award ceremony at Regency Hotel in Miami for two of my books, 'Zeeka Chronicles,' a science fiction novel inspired by the zika virus, and 'I Am Cancer Free,' A Memoir.
INDIE AUTHORS HALL OF FAME - USA
On 15th January 2020, I was inducted into The Indie Authors Hall of Fame, USA – an establishment for self-published authors who have achieved fame.
WORLD NATIONS WRITERS' UNION - KAZAKHSTAN
On 29 December 2018, I was awarded the World Laureate in Literature by World Nations Writers' Union.
On 31 December 2018, I received a Certificate of Honour for serving as a juror in an International Poetry Contest sponsored by the World Nations Writers' Union.
In August 2019, I received the World Poetic Star Award from World Nations Writers' Union.
In May 2020, World Nations Writers' Union awarded me a world rare and precious prize 'For Merits to the Development of World Literature' This award was given in consideration of life time achievements in terms of thoughts, mentorship and precision of pen. Along with nine other writers, I received this award in my personal capacity, as well as for the Literary Facebook Forum I founded How to Write for Success.
On 8th June 2020, World Nations Writers' Union again awarded me a World's Best Literary Jury Member Award 2020 for being a Jury member with great evaluation skills and for supporting in evaluating hundreds of submissions for various contests conducted by the Union.
MOTIVATIONAL STRIPS - OMAN
On 30 December 2018, I received a Global Literature Guardian Award from Motivational Strips and Associates, the world's most active writers' forum.
In March 2019, Motivational Strips and its Nominating Authorities awarded me with a Golden Dove of Peace award.
On 16 October 2019, I was awarded the Order of Shakespeare Medal by Motivational Strips.
On 20th February 2020, I was honoured by Motivational Strips with the Peacock Opinion Award, which is the highest level of honour awarded to authors who have shown exceptional support to World Literature.
UNION HISPANIOMUNDIAL DE ESCRITORES - PERU
On 22 February 2020, I was honoured with a World Award of Excellence in Literature 2019-2020 by the Provincial Municipality of Urubamba, Republic Government of Peru. The certificate of honour was issued by Luis Alberto Valcarcel Villegas, Mayor of Urubamba.
SEYCHELLES GOVERNMENT
On 31 August 2019, I was honored by the Seychelles Government Accredited Literary Society [ LLSF] for contribution to World Poetry, creativity, and writing expertise.
GUJARAT SAHITYA AKADEMI - INDIA
On 15th August 2020, Motivational Strips and Gujarat Sahitya Akademi under State Government of Gujarat honoured 350 writers of which Brenda was one, for Literary excellence on par with Global standards.
What has this award done for you?
This award has given me encouragement to do more work in the field of Literature that will benefit the world at large.
What do you hope this award does for your country?
Although this is a Literature award, I see this as a way of boosting tourism in Trinidad and Tobago. As I said above, Motivational Strips is the world's most active writers' forum and has writers from 163 countries with monthly visitors crossing 7.3 million. All eyes are now focused on Trinidad and Tobago, and whenever the pandemic ends, we will see a flux of visitors to this country.