A SPARK OF HOPE is a joint effort by Facebook Groups How to Write for Success, Motivational Strips, and other affiliated groups. All the forums have as their mission SUICIDE PREVENTION.
The project was initiated by a very caring author and Administrator of How to Write for Success, Narendra Rajkumar from Trinidad and Tobago. Authors Destinyy Lightt Speakss of India, Sabrina Young from the USA, and Poetess Farhana Sait of India were willing and ready to assist Narendra in making his idea a reality to produce this Anthology.
When they approached me to use the Group How to Write for Success, which I founded, to attract writers to contribute poems for this venture I readily agreed.
We obtained the blessings of Shiju H. Pallithazheth, the Founder of Motivational Strips and Chancellor of Motivational Strips Academy of Literary Excellence and Wisdom., and he took the time to contribute to this endeavor.
When I read that the World Health Organisation (WHO) estimated that each year approximately one million people die from suicide, which represents a global mortality rate of 16 people per 100,000 or one death every 40 seconds, and it is predicted that by 2020 the rate of death will increase to one every 20 seconds, i said we must use our literary skills to prevent this.
It is the hope and prayer of writers of Motivational Strips, How to Write for Success, and affiliated Groups, that these poems can rekindle the will to live and enjoy life regardless of the challenges we encounter.
If our writings could help to save persons from taking their own lives, we would feel indeed gratified.
However, the publisher of the original book. Dr. Julia Antoine, God rest her soul, passed away two months after publishing it.
I tried to retrieve it from her Author Page where she published it, but Amazon did not allow it.
I had no choice but to republish with a new cover.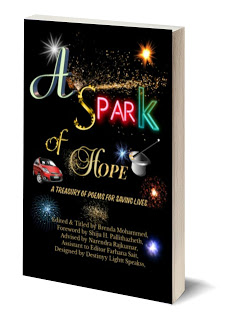 I want to extend special thanks to Destiny Lightt Speakss, the former Global PR Coordinator and Administrator of both Motivational Strips and How to Write for Success groups for the fantastic cover design.
No words can express our deep appreciation for her kindness.
Thank you Destinyy for contributing to the rebirth of A SPARK OF HOPE: A TREASURY OF POEMS FOR SAVING LIVES.
I thank the Authors of this Anthology, who span the globe, for taking the time to contribute to the Project.
GREAT NEWS
Another group named POEMS FOR SUICIDE PREVENTION has been formed to collect more poems to publish Part 2 of the book.
We do not intend to stop in our efforts to prevent suicide.
Every one of us will encounter challenges in our lives that may appear insurmountable.
You will be stronger and better for having faced challenges head-on and persevered.
When life seems a puzzle and you feel let down,
Tried your best but cannot turn your life around.
You feel life is not worthwhile and you want to exit.
It's when things look worst you should not quit.
Life is filled with many twists and turns,
As every one of us sometimes learns.
Achievement of your goals may be closer than you think.
Control your emotions and don't fall off the brink.
If readers are willing to help this valuable cause please purchase the book at Amazon Stores worldwide.
The Kindle Version costs only 0.99 cents and the Paperback is only $5.00.
Brenda Mohammed
Founder of How to Write for Success Group.
Founder of Poems for Suicide Prevention
Founder of How to Write for Success Library
Vice-Chancellor of Motivational Strips Academy of
Literary Excellence and Wisdom