59l1oe1mqofofbip6dgnrqvsck97wt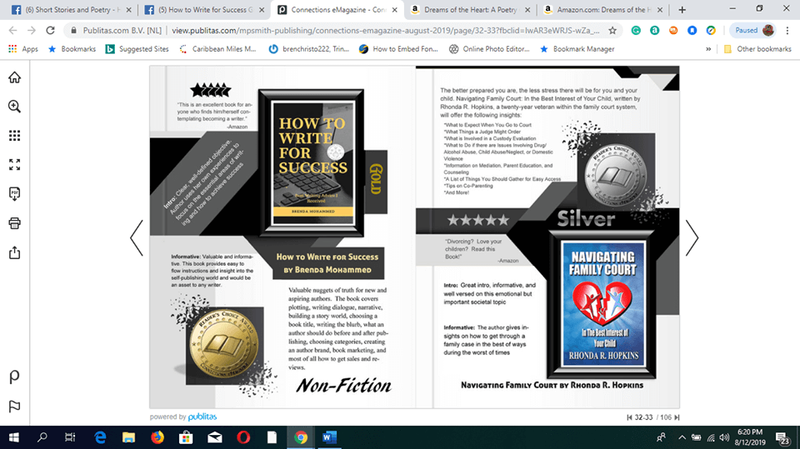 In 'How to Write for Success: Best Writing Advice I Received.' by Brenda Mohammed, the author shares with new and aspiring authors valuable nuggets of truth.
+++
a.The book received a five-star review from Readers Favorite one month after it was published.
b.In August 2019 it topped all the books in the Non-Fiction category of Connections Emagazine Readers' Choice awards and won the gold medal.
c.The merits of the book were featured in a review in the Ethiopian Herald Sunday Edition on
February 16th 2020.
++++
1.Using her own experiences she focuses on the essentials of writing a book to which readers will gravitate.
++++
2.The book covers plotting, writing dialogue, narrative, building a story world, choosing a book title, writing the blurb, what an author should do before and after publishing, choosing categories, creating an author brand, book marketing, and most of all how to get sales and reviews.
+++++
3.As a Bonus, the author shows how you can achieve recognition in an author's world and become successful.
++++++
4.You can become a best-selling author and an award-winning author.
++++
5.The book teaches skills to achieve your dreams and goals.
++++
6.There is a segment on frequently asked questions with answers, that no aspiring author would want to miss.
+++++
7.Seasoned authors can also learn something from this book.
Get the book at this link https://www.amazon.com/How-Write-Success-Writing-received/dp/1977903339